For almost 20 years we have been a leader in designing innovative security solutions that take advantage of mobile and cutting-edge identity technologies. We secure access to critical data and infrastructure, as well as provide peace of mind that the most sensitive information our users care about, is protected.
Secure passwords are no longer adequate for even the most basic security protocol. With our new SecureIdentity platform, we provide a layer of security to prove the identity of the user. A layer that is easy to use, easy to deploy and simple to administer.
SecurEnvoy continue to innovate. From our first innovation; we took the concept in the 90s of pushing codes through to mobile devices and invented 'tokenless'. This brought the ability to securely work remotely, to the mass. The spirit of innovation at SecurEnvoy continues today, with many patents in process, with pioneering inventive methods being created into the evolving solution set and with the true spirit of pushing the capabilities of protecting our customers' identity, device and data to a reality.
We provide trusted identity and access management solutions to millions of users in real-time. Across five continents, our customers benefit from rapid deployments that scale through instant provision, simplicity of use and ease of management.
Secur is a SecurEnvoy partner based in South Africa, offering SecurEnvoy implementation, integration and support services, these services can be offered even in Botswana, Lesotho, Namibia, Kenya and Nigeria
Identity & Access Management (IAM) Platform
Making the complex simple. Effective, secure Identity & Access Management for all your business challenges.
Quick to deploy, simple administration and an intuitive user experience.
A complete IAM solution that delivers effective security, simply
Designed with ease of use for the user and the team managing IAM in mind. SecurEnvoy IAM provides Single Sign On, Adaptive Multi-Factor Authentication, Access Management and User Life Cycle management.
Delivers effortless onboarding, user interaction and administration.
Active identity database supported by a robust, fully integrated Universal Directory (UD) as the Single Source of Truth (SSOT).
Underpinned by IRAD our AI/machine learning intelligent reporting and anomaly detection.
Simple & effective Security Management in a single pane of glass view
The SecurEnvoy IAM platform delivers what your team needs, simply and effectively, removing workload and providing the tools you need in a single pane of glass view.
Increases security while reducing the time
taken to manage complex environments
Simplifies how you manage user access
Dynamically enforces access decisions around
devices, applications and data repositories
Logs all events for instant forensic traceability
of all actions
Multi-Factor Authentication (MFA)
For companies that take authentication seriously. SecurEnvoy takes MFA to another level. Simply. Effectively. Flexibly.
For nearly 20 years we have been at the forefront of MFA innovation, proven with 1000's of customers.
Multi-Factor Authentication (MFA)
Discover an extensive range of authentication solutions ranging from phone apps to biometrics, smart cards, and real-time SMS. This powerful MFA tool allows you to select the specific authentication means by type of device and user.
Multi-Factor Authentication for VPN, Remote Desktop, Web portals, Public Cloud Applications, and Server/Workstation logons.
Comprehensive SecurEnvoy MFA – what else can MFA do for you in your business?
Your users experience is vital – embracing security with simplicity is key
SecurEnvoy MFA allows you to choose and set up any personal device for authentication while moving seamlessly between devices – without compromises.
Easy to use, users can approve authentication attempts by accepting a push notification on a smartphone. In addition, users can enhance security by adding biometric approval.
Authentication security second to none – but maintaining simplicity for user and manager
Full range of authentication options – beyond SMS
Scales as your business grows, integrating seamlessly with existing user repositories
Highly available resilient distributed server architecture
Feature rich integrations with wide ranging technologies
Support for seamless migration from existing authentication solutions
Data Loss Prevention (DLP)
Discover, classify, identify and protect your data. Any data. Any location. Any platform.

Complete, comprehensive data protection. On-prem and in the cloud. SecurEnvoy DLP prevents data loss from malware, insider threat and human error, working across multi-channels regardless of file type and across structured/unstructured data repositories.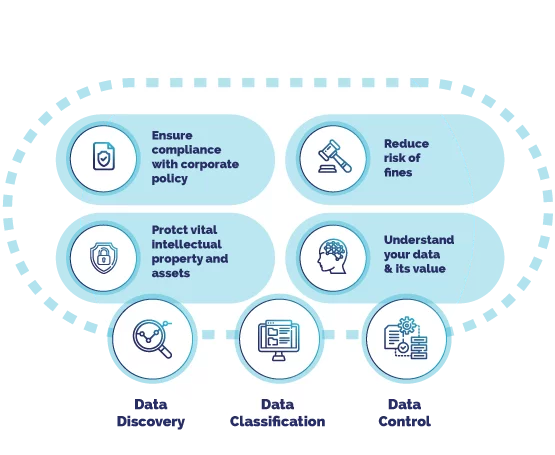 Modern, simple and effective DLP
Built from the ground up, SecurEnvoy's Data Loss Prevention provides a full solution for data discovery, data classification and data control, so you can apply simple and effective polices to protect all types of data and ensure full policy compliance.
A simple but comprehensive solution designed to deal with the challenges of big data growth, flexible working, new technology adoption, and the Cloud.
The increasing challenge of keeping track of data and protecting it, everywhere
Growing Cyber Security Threats

Human Error,
Malicious Insider
ExternalThreats

Greater Privacy & Compliance Expectations

GDPR, Potential
Fines & Business
Impact/Loss
Threats, Reputation

Increasing Sensitive Data to Protect

I0T, ERP, CRM,
CAD/CAM,
Intellectual
Property
Threats

Growing Numbers of Devices

More & More
Devices
In/Outside the
Workplace
Threats

Remote Working

Protecting Data
Outside the Office

Data On-Premise, Off-Premise and in the Cloud

Data On-Premise,
Off-Premise and in the Cloud
Keeping track of sensitive data, anywhere
DLP can help you understand what sensitive information exists, where it is located, and the type of interaction they have. Once you have a full understanding, it is possible to quickly apply rules to how the data will be used by staff and external parties such as supply chain companies.
Implement policies to support user interaction with sensitive information across all aspects of a company's data stores, whether this is within a trusted or a public cloud environment.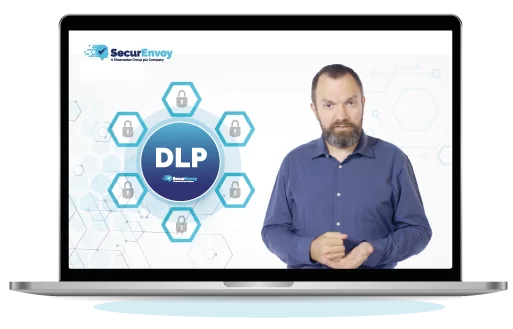 How DLP can protect your business data
How SecurEnvoy DLP works

SecurEnvoy's DLP uses the identity of the user, the
device and the data they are working on to prove
exactly who is doing what at any time.
With increasing integrations with other parts of the
security market, DLP has become essential for
protecting organisations when newer technologies are
to be adopted.
Our DLP solutions are unique from competitors as we
address threats from trusted and un-trusted users,
through unique intellectual algorithms and
fingerprinting features.
SecureIdentity DLP conducts real-time inspection of
all protocols, even ones that are unknown, and has the
ability to stop data loss immediately
Data Discovery and Loss Prevention, across all platforms, devices and applications
SecurEnvoy's Data Discovery can scan structured and unstructured data, protecting sensitive data residing on Local PCs, File-shares, Exchange, PST/OST files, SharePoint, and any ODBC compliant database. It can also discover the same data in cloud services, such as Box, Dropbox, Hosted Exchange, Azure, Office 365, OneDrive, SharePoint and Google Drive.
Scans can be run as a batch process with results streamed to configure both local and external systems. Enterprise reporting on locations, file types and actual DLP Policies are also included as standard.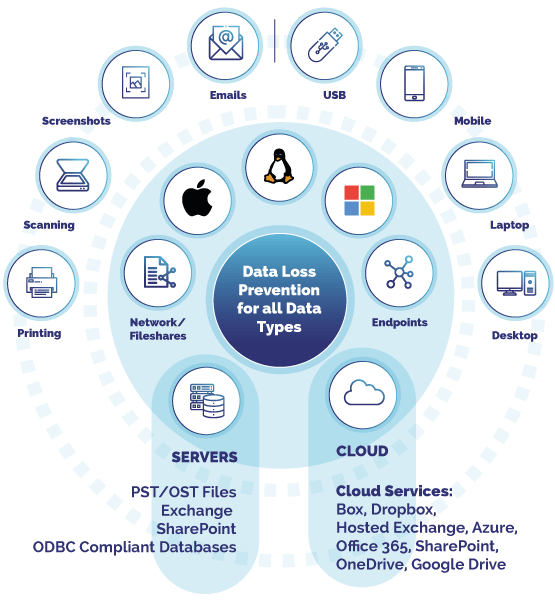 ---
Get in Touch